Planning a trip to Italy?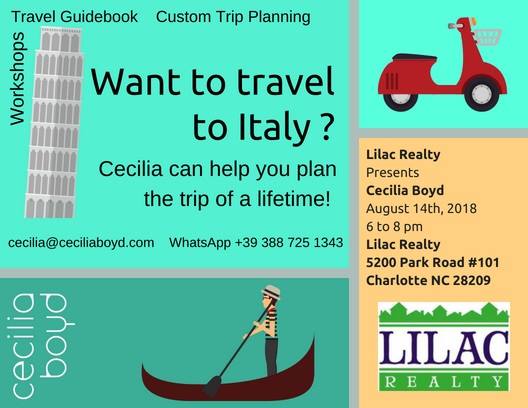 | | |
| --- | --- |
| I wouldn't even know where to begin planning for a trip to Italy. I can imagine myself scouring the internet for hours reading Trip Advisor reviews, Googleing, "fun things to do in Italy" and ogling social media posts of random people across the Italian landscape. Only to find I have accomplished nothing, no reservations, no itinerary, nothing. Get advice from world traveler, resident of Italy and trip coordinator Cecilia Boyd. | |
Tuesday August 14th at 6pm at the office of Lilac Realty, we will be holding a small workshop"Planning your Dream Trip to Italy".

The workshop will be presented by Cecilia Boyd of

Cecilia is a certified English as a second language educator for business professionals across the globe. Cecilia offers the arrangement of travel packages ranging from basic to full itineraries. Our office is located in Montford Park where Selwyn Ave. meets Park Road. 5200 Park Road Suite 101 Charlotte NC 28209. See you there!